Cities of Making is a 2.5 year JPI Urban Europe funded research project exploring the future of urban manufacturing in Europe with the focus on three cities: Brussels, London and Rotterdam.  The project involves seven organisations:  Brussels Enterprises Commerce and Industry, Latitude Platform for Urban Research and Design, Technical University of Delft, The RSA, l'Université libre de Bruxelles, University College London, Vrije Universiteit Brussel.
General description.
The delocalisation of manufacturing activities has pushed manual jobs, technical knowledge and industrial innovation capacity out of European cities. Outsourcing manufacturing out of city centres, and Europe generally, has externalised environmental issues while contributing emissions from transportation. As a response to the economic and environmental challenges, political discourse has called for an 'Industrial Renaissance' (EC 2014) and endorsed re-industrialisation initiatives such as the Circular Economy Package and Industry 4.0. This may offer a raft of potential benefits, including jobs for socio-demographic groups most affected by unemployment, innovation, more efficient use of materials and urban resilience. Urban centres play an important role in nurturing new forms of green urban manufacturing, based on a clean, knowledge- and labour-intensive manufacturing sector.
Re-industrialisation is a complex challenge in terms of adaptation of urban areas and the public services that can support it. This project will close this critical knowledge gap by combining complementary research on a) relevant new smart technologies, b) physical environments for urban making and c) how public services and other relevant stakeholders can engage in transition strategies. This will be achieved through applied research and case studies in Brussels, London and Rotterdam. The outcome  will provide practical guidelines and resources for public service professionals, aiming to position public services at the centre of re-industrialisation, grounded in academic research and best practices while equipping them with practical and cost-effective tools that can be deployed to revitalise their industrial bases.  Such results will be as relevant to private actors that are taking a collaborative, cross-disciplinary and/or place based approach.
Objective.
Cities of Making explores opportunities for strengthening urban based manufacturing in European cities following years of decline and offshoring. Using a combination of strategic and action research, our ambition is to identify what works in supporting a resilient and innovative industrial base, and to test those solutions in a real world setting. We will learn from experiences in London, Rotterdam and Brussels – each with a distinct industrial heritage. By the end of the project we will have developed ideas,  practices and policies focusing on public authorities (and many other relevant stakeholders) to breathe new life into their manufacturing communities.
Background.   
In the aftermath of the 2008 financial crisis, there has been a growing realisation at a political level that the re-industrialisation of Europe is necessary and an essential complement to the services sector. Production, once at the heart of European cities, has shifted to the periphery.  Employment became services focused, industrial areas turned derelict and gentrified to housing or office space, while cities have become centres of linear consumption. Cities need sustainable local industry for various reasons (Leigh & Hoelzel 2012). As urban centres absorb a large percentage of the world's population and resources they are also increasingly exposed to pollution problems, social inequality and non-diversified economic activity and will need to become far more resilient, self-sufficient  and resourceful. That makes the return of local production, together with its jobs and innovation, not only desirable but essential. The European Commission (EC) defined a challenge in 2012 to grow industry from around 16% to 20% of GDP by 2020 (EC 2012), issuing several strategy documents as part of an effort to bring back a strong innovative productive base, increase local jobs, promote import replacement,  increase value and economic activity. With the advancement of technologies such as high-precision 3D printing, CNC milling, decentralised resource processing, the emergence of the 'maker' culture, new entrepreneurial models and a focus on the circular economy, such a return is possible. Industry and making can be more sustainable, social, better distributed, quieter, non-toxic and adaptable to existing urban conditions.
"In addition to the public sector's role in catalysing innovation in the wider economy, there is an urgent need to power innovation within the public sector itself in order to unlock radical productivity improvements and efficiency gains, to foster the creation of more public value and a better response to societal challenges."  (European Union 2013)
Problem.
The public sector plays a vital role in convening the re-industrialisation process, however needs skills to support it. The shift to re-industrialisation is not just about business. It is about jobs, material flows, local entrepreneurship, new land use and action between various stakeholders including: public services, entrepreneurs, investors, the research/design sector and local communities. Public services – services provided by government authorities as a public good –  can provide an essential role in mobilising re-industrialisation based on collective benefit without the environmental and health issues that emerged from the industrial revolution. However specific mechanisms for public services-led urban re-industrialisation are being overlooked in the European industrial strategy documents, possibly due to an expectation that the private sector will drive innovation and change.   This view fails to acknowledge the inertia in current framework conditions that pushed industry away in the first place. As Mazzucato (2013) points out, public financing and procurement has played a major role in industrialising innovation that were eventually commercialised by the free market. Again, public service can be a major agent in the processes through setting the conditions for re-industrialisation.  
Catalysing complex changes such as re-industrialisation, however, presents new vexing challenges for public services that must balance demands for public entrepreneurialism, rigid internal process and mitigating stakeholder interests while adapting to austerity.  While re-industrialisation is a broad and complex issue, the focus on public services and stakeholder engagement are very powerful leverage points.  This invites three key questions, that we'll apply to Brussels, London and Rotterdam.  
With new technology and processes for dealing with material (particularly waste resources) and production – industry of the 21st century will be very different from the traditional polluting factories.  What are the most relevant materials, technologies and processes that will form the basis of the re-industrialisation process in European cities?  

Re-industrialisation can enter into urban centres, into vacant commercial space, into mixed use zones and re-inhabit former industrial land.  Where could re-industrialisation occur within existing urban areas and what might the spatial conditions look like?  

Despite innovation resting largely in the hands of private actors, change will occur very slowly, it risks being disjointed, disregarding local heritage and communities or environmental conditions and not benefiting the local community unless a mediating stakeholder, negotiating public and private interests, is at the centre of the changing process. What is the organisational capacity and necessary governance that will help transition European cities to re-industrialisation through public services?
Objectives, project goals and planned results.  
We aim to define the key leverage points that public services in Europe can use to re-industrialise urban areas. This is focused on three main research streams: materials and technology, spatial conditions and transition planning strategies.  While find these themes to be significant leverage points, we also recognise and will respond to broader drivers/inhibitors of re-industrialisation, such as: infrastructure, skills, taxation and macroeconomic conditions. Our research base focuses on three European cities, however we aim to describe findings that can be scaled up across Europe and beyond.  The transferability will further be tested inviting also current project partners of related EU projects of the main partners, as H2020 "Repair", to the Wp3 workshops.  We will ensure the project remains relevant through ongoing stakeholder engagement (based on successful methods developed within the team), public outreach/communications and regular interaction within the team (face-to-face knowledge exchange).  Examples of stakeholders range from local authority planning officers, development organisations, regeneration groups, councillors and elected officials, waste management officials, educators within higher and further education, architects and urban planners, waste management teams, and private-public sector business groups (such as project partner BECI in Brussels).  
City level diagnosis for re-industrialisation.  Using three cities (Brussels, London and Rotterdam) we firstly aim to have a better understanding of existing urban industry, local policy priorities, a scan of public actors operating in this space, data on available materials , urban capacity to deal with new industry and the development of innovative new projects.  We will produce reports (for the three cities and a global trend analysis) for comparative analysis and foundation for the rest of the project.
Leverage points for re-industrialisation.  
Focusing on three key research tracks (transition planning, materials/technology and buildings/space) we aim to dig deeper into the building blocks that could catalyse change.  Although this will be orientated to the needs of the three cities, the results will offer the foundation for many other European cities.  The outcomes will include both applied research and practical Resource Kits. The Resource Kits are a synthesis of the applied research using common language, diagrams and tools to facilitate the discussion on the re-industrialisation process and is aimed at both public services policy makers and practitioners.
The institutional capacity.  We will apply the knowledge learnt about the cities and test the Resource Kits on a site in each of the three cities, selected with stakeholders (see letters of support) at an earlier stage. We will explore the structure of the organisation administering the public services which may include established public authorities, a public-private partnership or a development agency.  The circumstances can depend on many variables so we will apply knowledge to three specific sites and produce transition plans as a first practical step.  A range of stakeholders will be included in the milestone workshops.
A manifesto for new urban industry.  We aim to reduce barriers in re-industrialising urban areas.  As industry has developed a negative stigma, we will show how a vast range of technology can be located in urban areas by compiling the results of the research into a manifesto.  This summarises the outcomes while focusing on scalable opportunities.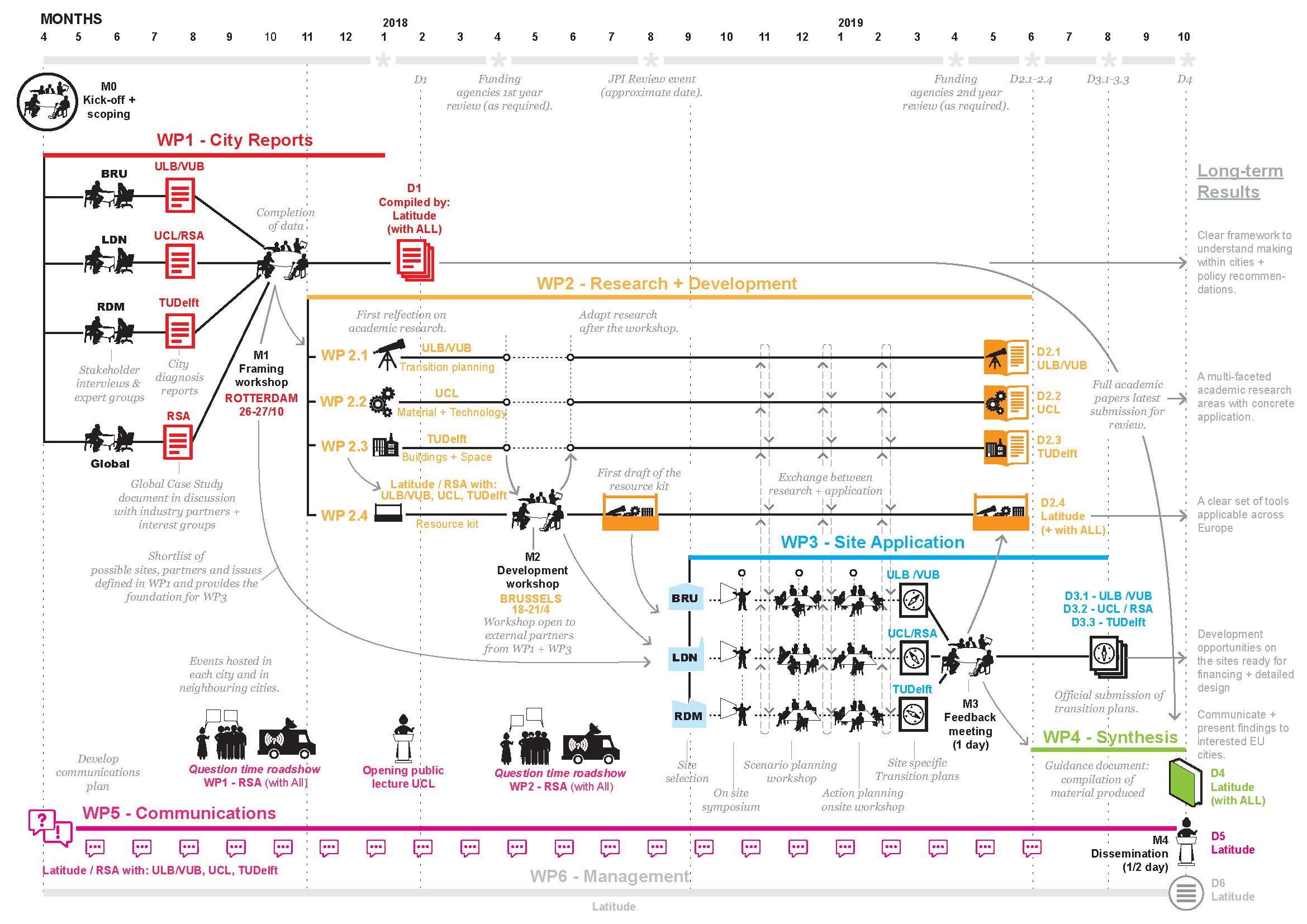 Approach.  
The work will be founded in applied research while engaging regular stakeholder co-creation (e.g. through local Question Time-style events, consultation and workshops).  Research will be based on empirical city level data while exploring innovative approaches to governance in public services planning policy.  We will produce relevant research for academic journals while synthesising results to foster multi-disciplinary stakeholder focused discussions.  The project will involve regular engagement, feedback and updates within the group and also stakeholder outreach and communications, ensuring the research results are relevant while the outcomes are spread across the project for public discussion.  We will focus on industry that draws upon and feeds back into a city's assets – its workforce, communities, culture and public services.
Innovation.
This project brings together three critical aspects associated with re-industrialisation.  Firstly, while extensive work has been done on industry, it remains unclear what materials (particularly waste) and which technologies are most relevant to re-industrialisation within the European context. Therefore, we aim to clearly describe the state-of-the-art relating to both.  Secondly, as old industry has been largely pushed out of cities, more amenable new technologies are being developed. Yet it remains unclear where innovative industries can be accommodated, so we will explore various suitable urban typologies. Finally, future public services relating to a complex topic such as re-industrialisation require new governance capacities and transition strategies which we will research and apply in three cases.