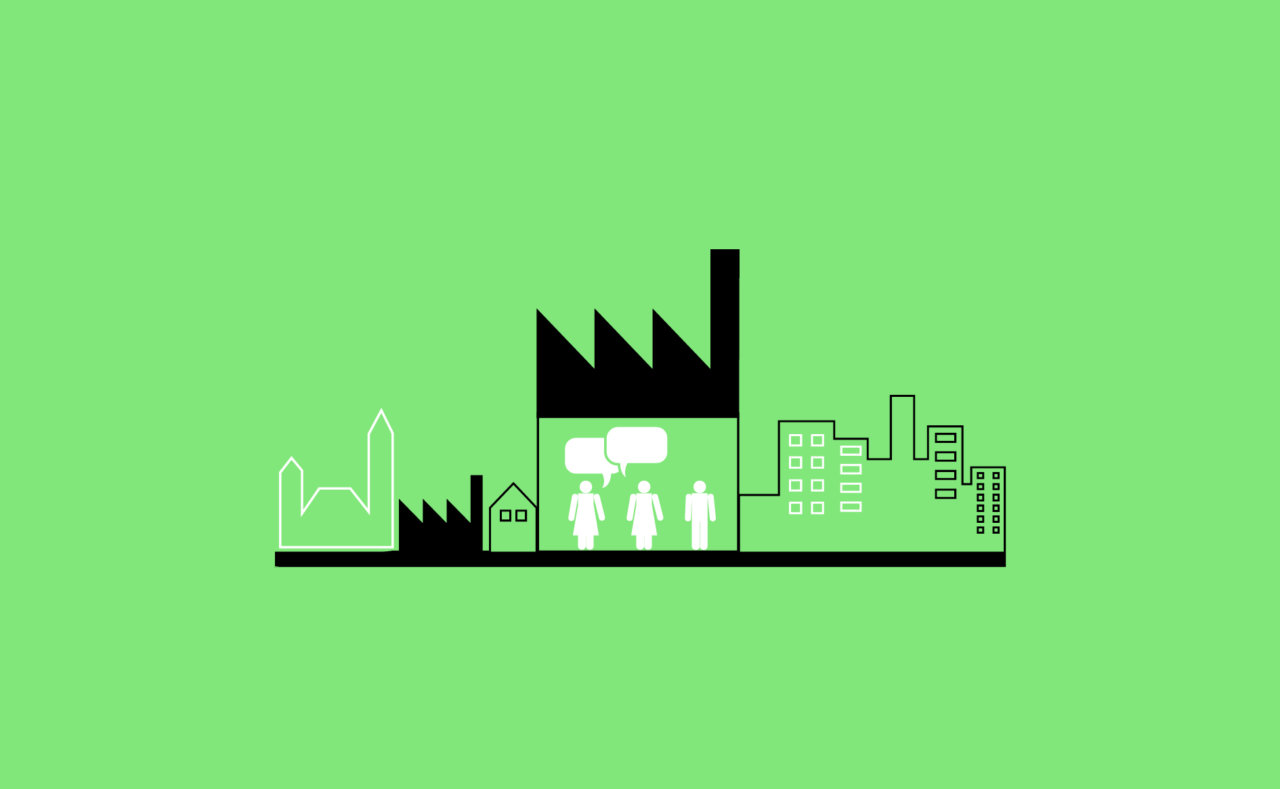 P.8 Community Hub in Making Locations
An inclusive hub helps facilitate knowledge exchange, nurture a place-based network of makers, encourage collaboration and provide businesses with a space to discuss collective problems and opportunities.
[Context] While historians have connected the arrival of coffee houses in the UK as a trigger for the enlightenment and eventually the industrial revolution, there is no doubt that informal places for interaction and engagement are critical for building relationships, sharing ideas and spreading news. There is no standard format of such spaces, who owns them or what activities occurs. Yet such spaces provide unquantifiable value.
[Problem] Industrial neighbourhoods often have cafés, sandwich shops, bars and even restaurants, but few naturally develop into the status of a community hub which supports and stimulates the manufacturing community. The conditions and soft skills required to facilitate a community hub are not naturally found in industrial areas and may require external financing and capacity. Likewise as a result of a lack of meeting places, (larger) businesses will invest in their own, which is unlikely to encourage the free exchange of ideas and knowledge between neighbouring businesses.
[Forces] Community hubs require stimulation by a public authority or an organisation that is interested in pulling together the traditional triple helix actors (public institutions, knowledge generators and businesses) to support N.3 Mixing Complementary Making & Related Services. Public financing is a serious challenge to provide long-term structural support. Subsidies and donations can dry up quickly unless there is a clear public benefit in supporting such an organisation. Private financing for such a role is very unlikely unless it comes in the form of a membership or local tax. A mixed funding model is sensible but it also requires an entrepreneurial organisation that sees the benefit of community building. The actor involved in developing the hub must have a clear idea of the needs of the area and what kind of spaces and activities will naturally draw local businesses to it. Furthermore, even if finance is available for a community hub, local businesses and workers may need good reasons to use it. Reasons include social events to learn about challenges and opportunities, training sessions or presentations on new expertise. Finally, there is a serious dependence on an area manager or R3 Curator to be the point of contact, requiring strong interpersonal skills and generalist knowledge of technical, social and financial issues affecting businesses. 
[Solutions] Create a community hub to improve informal relationships between makers, while generating opportunities for innovation, skills development and business incubation. In some cases the hub will be a bar or restaurant. It could be a community centre or a cafe connected to a public business development agency. It may also be a conference space or hotel. Regardless, the atmosphere of the space should be sufficiently inclusive to draw a wide range of actors at any time the day, irrespective of class, sex or background. The facility should be multi-functional and encourage users to visit the hub for various reasons, whether it be a meeting, attend an event, have lunch, look for a possible project partner or seek business support. A range of small and large spaces should be available where meetings and events can take place. There are three particular dimensions to address. Firstly, the purpose of the hub can be diverse, and could facilitate R.1 Making Making Visible, supporting businesses in N.3 Mixing Complementary Making & Related Services, N.4 Clustering Similar Making and/or even becoming P.7 Spaces for Development & Education. Secondly, financing the hub will change from place to place. Some will start with public or private seed funding and then auto-finance through a restaurant or events. Public financing can be generated through R.10 Place Based Financial Levers such as taxes, cultural and research grants or business development financing. Finally, responsibility for the community hub is essential. It should be coordinated by a person or organisation with strong interpersonal skills that can facilitate events and connect individuals. A R.3 Curator or curatorial team could be actively involved in understanding the needs of the local businesses and develop relationships, host events, explore opportunities for P.2 Shared Technology & Making Spaces, build R.7 Multi-scalar Circular Infrastructure and help convert informal relationships into business, new design and output.  
[Contribution] Add contributions here.