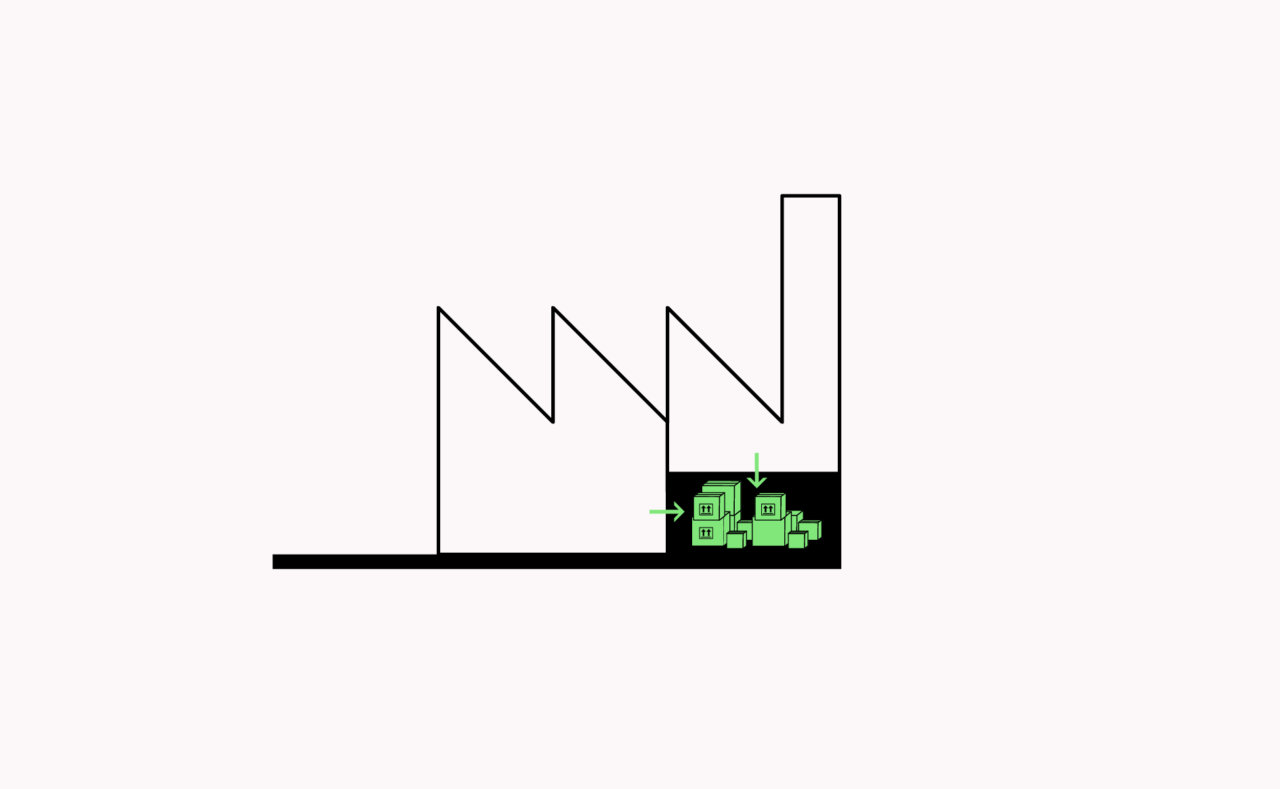 B.8 Space for Storage
Manufacturing spaces with smart storage solutions allow for efficient use of space and production processes.
[Context] Manufacturers of all sizes need to manage a balance between the amount of active production space versus inactive spaces for storage of materials, stock ready for distribution and areas for storing waste. The amount of storage required will depend heavily on the business type, distance to suppliers and the business model. Businesses focusing on custom made and just-in-time production often have high levels of material supplies but much smaller requirements for made stock. Businesses that produce large orders (such as electronics), those that need to have regular production cycles (food) or those that produce seasonally (clothing or breweries) will likely need areas for storage near the production spaces. Storage can be located in poorer quality spaces or on light-weight mezzanines that don't need to handle heavy machines. Storage is also increasingly becoming mechanised, with automated vertical and horizontal systems.
[Problem] For manufacturing businesses, in particular those in a growth stage, decisions will need to be made regarding dedicated space for the production process and having sufficient space for storage of materials or stock. Committing enough space for storage might not be an option, even if the business scrupulously manages storage, delivery and waste disposal and space for actual manufacturing. Likewise, tensions in global supply chains and material supply could delay orders and cost the manufacturer business or clients. As a result, businesses can restrict production, or be forced to move to a larger premises elsewhere (if this is feasible) to have access to storage space. Lack of storage can also limit a business' capacity to produce a stock of goods, deal with sudden demand for products or provide the capacity to adapt the business.
[Forces] Many businesses are focused on production and increasingly outsource distribution and logistics. For manufacturing to function efficiently. For additional storage needs a neighbourhood manager or R.3 Curator may be required to help identify possible options that could link demand and supply of space at the scale of the neighbourhood. Some businesses use their spaces inefficiently and therefore could gain from renting out space to neighbouring businesses. This requires the suitable person (or organisation) that can connect businesses and space, while negotiating fair conditions. Furthermore, due to a lack of suitable storage space, businesses are unlikely to be able to channel waste into R.7 Multi-scalar Circular Infrastructure as suitable bins or receptacles are required to sort materials at the source of the waste.
[Solutions]
Provide practical and compact solutions for dealing with storage of materials and waste. This allows businesses to manage demand, to have a buffer of materials and to sort waste streams. Solutions such as shared storage space, or using marketplaces to share/sell waste materials, are ways to help manufacturers in solving the issue of storage. Decentralising storage space could be a solution, when coupled with mobility strategies to avoid congestion. Solutions could include a N.6 Centralised Logistics Zone that facilitates R.8 Moving Things Efficiently at the scale of a neighbourhood. Digital solutions could become the most efficient and least disturbing way to move materials and stocks for just-in-time production. A R.12 Material Database and C.8 Accessible Material Recovery Facilities would be needed to achieve circularity and avoid having idle waste materials that are useful for others. Businesses in P.2 Shared Technology & Making Spaces need to find clever ways to avoid storage from consuming useful shared production spaces. Affordable low-tech vertical storage systems can use crate sized boxes lifted by forklifts onto heavy-duty shelving. More automated systems are emerging from the competitive logistics sector.
[Contribution] Add contributions here.