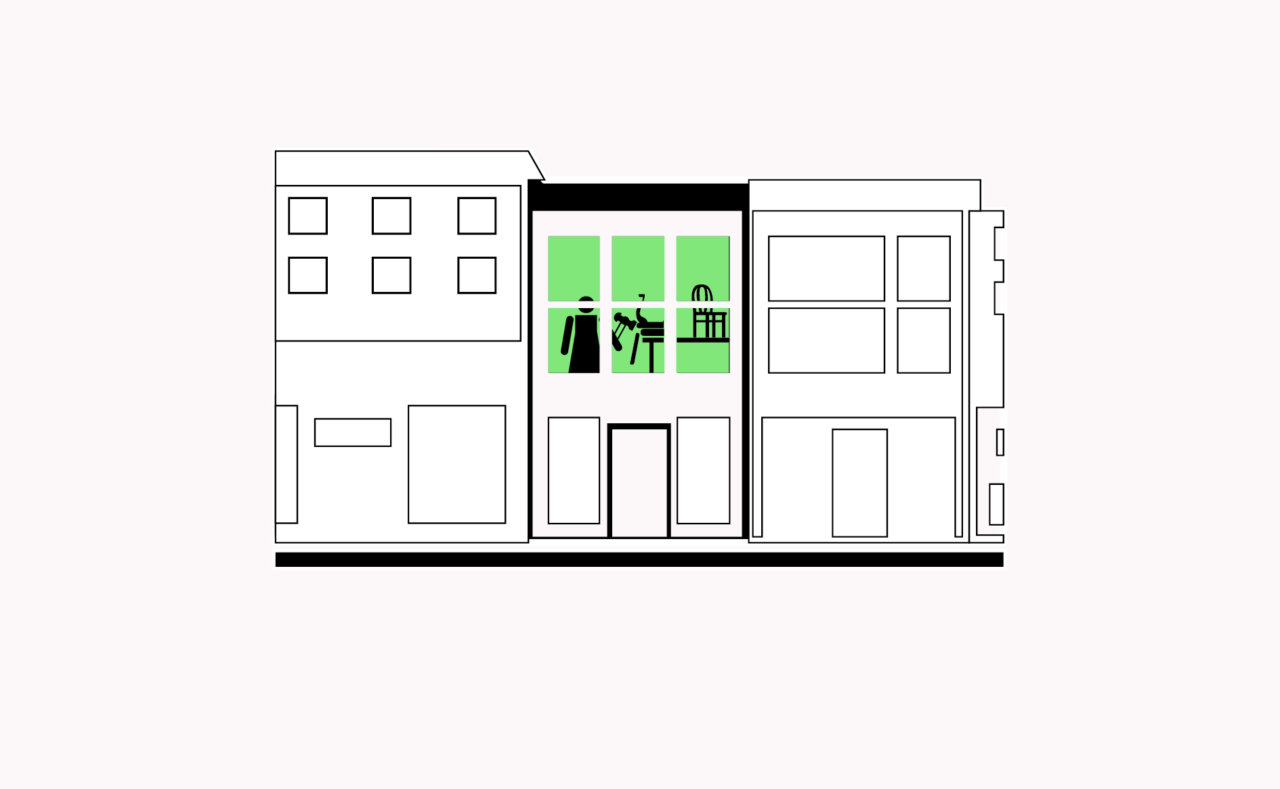 P.5 The Work Home
Homes can be a key part of local production processes and provide accessible and flexible income if domestic spaces and work-live concepts can be used for micro-manufacturing.
[Context] Micro-manufacturing, refers to a living room sized production space involving just up to a few people. Such forms of manufacturing can provide both independence and flexibility for workers for those that offer niche and highly customised products. Affordable rental space can be very difficult to find, considering that this type of manufacturing often involve one person operations. With the rise of online platforms (Etsy, etc), activities of this scale are increasingly profitable and can provide a viable living. Making from home can consume little space while being compatible with or supplement other stable sources of income. Micro-manufacturing may be commonly associated with fashion and clothing but can include emerging technology by assembling small electrical components or producing parts with 3D printers.
[Problem] In general, zoning plans can limit the kinds of activities that are permitted in housing. Working at home could be therefore illegal even if common practice and does not disturb neighbours. Irrespective of many inane reasons not to allow small-scale manufacturing in housing spaces, issues such as insurance may provide a barrier or risk particularly for residents in apartment buildings. When working from home is permitted, particularly involving some form of light manufacturing, activities must have very low environmental impact (such as noise or odours). This concerns not only the neighbours but also the occupant of the space that may be exposed to unhealthy fumes. A serious investment in technical solutions like a fan or exhaust may be required, particularly for micro-manufacturing in denser neighbourhoods. Finally, working from home means that workers are isolated from social interactions that occur in larger working environments, resulting in poorer levels knowledge sharing.
[Forces] If working (manufacturing) from home is permitted, it could create conflict with neighbours as a result of nuisance from the production process, logistics or risk of an explosion or fire. This is particularly an issue when work occurs outside of typical working hours and particularly at night. Poor regulation and control over activities taking place in the domestic sphere could potentially result in undesirable activities and inequitable conditions (contrary to R.5 Fair Work Conditions). This could transform into sweatshop type conditions, linked also to labour through digital platforms that do not respect work regulations. It is therefore necessary for small-scale making to stay at the intersection with craft (knitting, tailoring, food preparation, etc.) to avoid unnecessary health and safety implications. 
[Solution] Provide choice and flexibility for small-scale makers to work from home. City-wide regulation or C.1 Microzoning could allow residents to use a percentage of their residential floor area for economic activities, that include artisanal or highly customised forms of manufacturing. Activities performed at home can be diverse and include speciality food production, bespoke clothing and niche electronics. Environmental impact should be performance based to ensure that there is flexibility in what can be made so long as neighbours are not affected by noise, odours or fire risks. Use C.2 Negotiated Qualities & Environmental Criteria and R.5 Fair Work Conditions as a guide. This way, the use of new, cleaner and more circular forms of making can be encouraged. Ultimately this could result in R.6 Sustainable Product Cycles, particularly for high value resources. New urban intensification and mixed use projects with work-live concepts should consider opportunities for working from home such as: B.5 Enabling Vertical Making (including a goods lift), B.7 Access to Technical Networks and Services, B.9 Large Openings, a flexible apartment layout, and good noise insulation. A P.8 Community Hub in Making Locations where support for home-workers is provided, could facilitate knowledge exchange within networks of decentralised producers, and offer a point of contact between entrepreneurs, employees, and residents to address issues  and labour conditions. A R.3 Curator can be an important figure to help connect these small manufacturers and share relevant knowledge on trends, regulation and collaboration opportunities. 
[Contribution] Add contributions here.