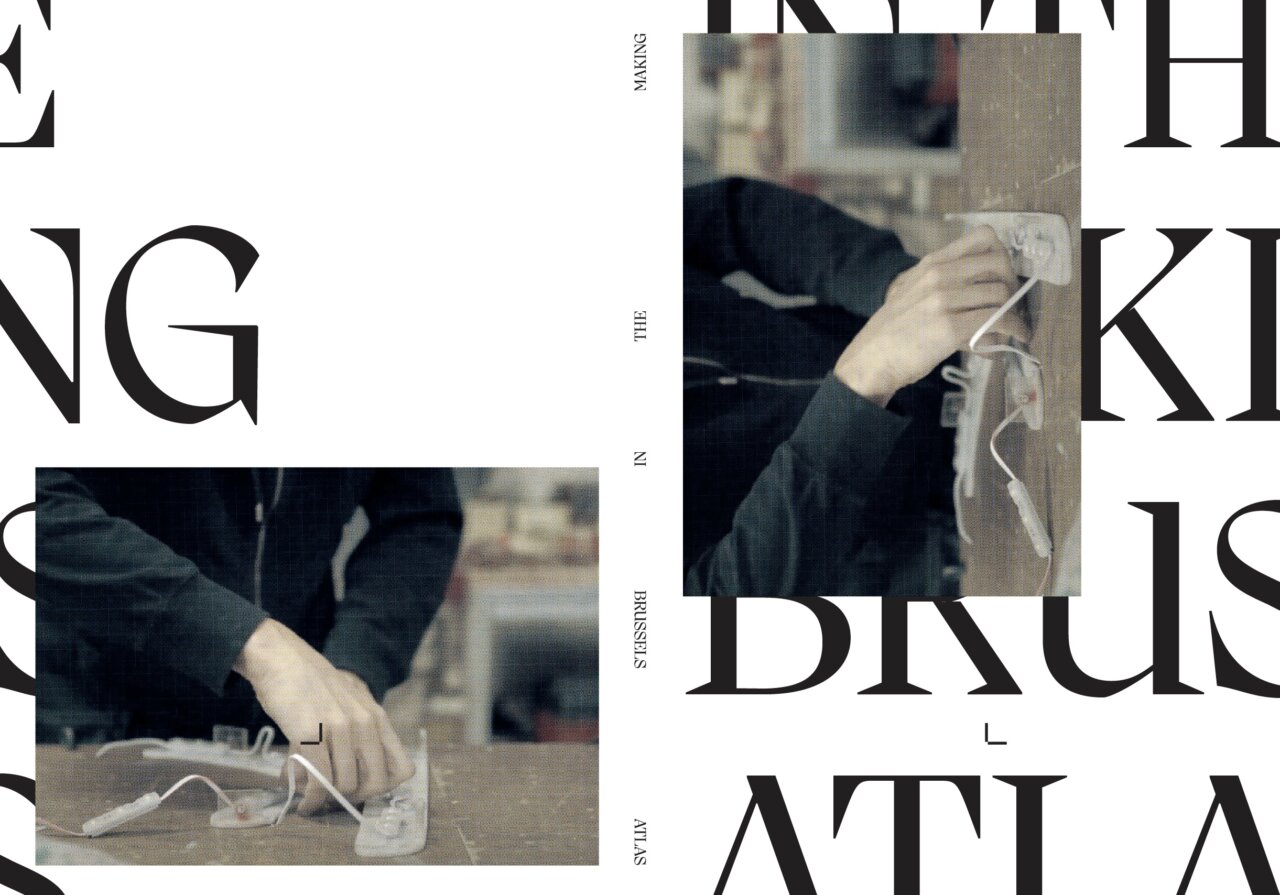 In the Making: Brussels Atlas
Brussels was once a major centre for production and manufacturing. Since the 1970's the economy has shifted radically. Yet there remains a wide range of manufacturing spread out across the city. Three areas, Buda, Cureghem and Drogenbos, present three very different forms of production and different relationships to the city.
The relation between the production of goods and the city has radically changed over the last century, leading to a strong disconnection that exiled manufacturing activities to marginal places, out of sight. In recent years, such confinement and its negative consequences   congestion, energy waste, pollution, employment unbalance has gained attention worldwide. Critical discussions and a reconceptualisation of manufacturing processes in the urban realm are emerging from this awareness. Acknowledging the many socio  economical, spatial, environmental problems that such divorce brought to our cities was crucial and it is thanks to the growing ecological sensitivity, circular economy claims, and the fashion for crafts that manufacturing issues are discussed at different (political) levels.
The maps for the areas of Drogenbos Stalle, Cureghem and Buda all point towards essential amenities for industrial companies: public transport, traffic congestion, accessibility, heavy goods vehicles manoeuvring space, yard space. What urban planners regard as a mobility problem is an existential part of production and distribution businesses: when goods can no longer be transported to and from the company s site in a predictable and efficient way, there is no point in doing business there.
When the (public) street has to function as a yard, as shown in Cureghem, there is competition between different economic activities and parking on the street. Why would we accept to rent public space for private use, to park cars, in an area where the primary functions of public space, e.g. to facilitate the exchange of goods and people, cannot even be organized? Cureghem also illustrates how older high density mixed areas are the home to complex socio cultural and economic ecologies. The Car Business Ecology and the Meat Business Ecology meet in this neighborhood, and connect to a myriad of other multi  cultural retail businesses.
Both Drogenbos and Buda never got to this level of organizational complexity. Of course, every business has its own network of relationships, and most are links to other places in Belgium or Europe. The Buda mapping illustrate that these networks are specific to each company, even within the same sector. If one would make the same maps for Cureghem and Drogenbos, you would see similar, but different patterns. Companies in one sector (e.g. second hand car sale) are competitors, and usually do not share the same economic network. However, they do share a similar interest in the proximity to the city, the economic specialization of the neighborhood and the presence of potential clients. The inner city location of Cureghem, and the strong mix with housing seem to promote a more entangled social and economic network, where both Drogenbos and Buda as old industrial, functionally segregated areas seem to have looser relationships.
The company fact sheets, interviews and internal organization drawings provide an excellent overview of the difficulties and advantages of contemporary urban manufacturing. The challenges are huge, uncertainty arises from the hesitation of (local) governments to be clear on the future development of these neighbourhoods, the demand for solutions and answers to mobility and environmental issues requires an urgent response. Scholars, practitioners, experts and students worked on these cases, and helped to get this together. But they also started to develop specific proposals to give 21st century answers to these wicked problems.
More is yet to be explored, but with this essential contribution to include manufacturing in urban planning practice, 'Foundries of the Future' and 'In the Making' mark the start of a new era, where the implementation of new complex concepts can start and we can all add another piece to the puzzle of a vibrant 21st century metropolis. New and exciting things are about to happen, probably fuelled by the 2020 Corona crisis. We need manufacturing in our City. We will build new exciting places for industry and housing. We are ready for Phaze III.
Download an excerpt of the report here.