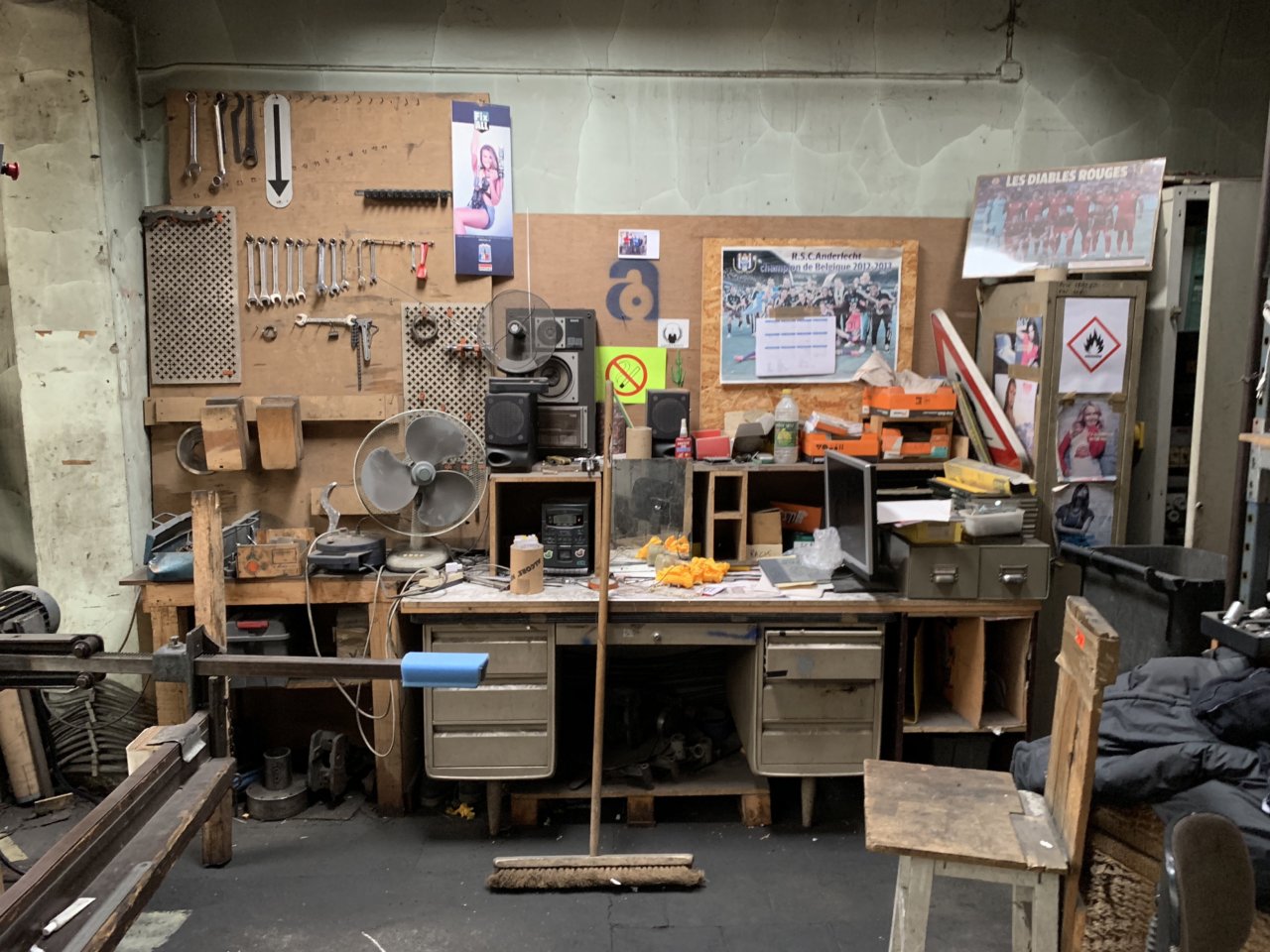 Integrating manufacturing in the city: a few common patterns
Aubry Paper, Anderlecht – Adrian Vickery Hill
Urban design and planning in cities builds the future; the way communities connect, people move around, and businesses relate to citizens are shaped by the built environment. Given the role that urban manufacturing plays in cities, ensuring that manufacturing and making activities are suitably accommodated in the future life of our cities is imperative. After exploring urban manufacturing in Brussels, London and Rotterdam, here are some considerations for accommodating the sector, highlighting some opportunities and challenges. Despite the long history of manufacturing in cities the question of accommodation remains a challenge, for several reasons. Firstly, the characteristics of the sector (its size, employment, functions) change over time. What was needed by the sector seventy years ago is no longer what is required, and what will be required in fifty years is likely to be different to today. Buildings or districts must be repurposed to suit the changing life in the city. Second is the challenge of accommodating multiple, and often competing, land uses in a city. Authorities must balance numerous demands for space. Where land values are high, manufacturing and 'making' functions are in competition with other, often higher profit, land uses like residential and office space. Strategic urban design decisions need to provide suitable and affordable space for manufacturing to ensure that the sector can continue to support cities to thrive.  There are a range of opportunities and requirements to consider:
Protection
Protecting existing industrial space in cities provides continuity for firms and prevents the disruption of existing social and business networks. To be most beneficial for all sizes and kinds of manufacturing businesses, protection is needed across different kinds of space, from large scale industry-only sites to fine-grained sites where industry and residential mix.
Segregation
Clustering manufacturers in 'industrials zones' can afford makers the space and freedom to undertake their activities without fear of disturbing neighbours and protect other city residents from health and safety hazards. Where industrial zones do exist, there are opportunities to actively encourage clustering of similar businesses or seek diversity of activity. Clustering can attract skills and boost competition and development. Diversity on the other hand encourages a range of complementary businesses to be able to support each other through tangential skills and knowledge. 
Integration of industrial parks
However, such zones also can isolate businesses from the pulse of the city and feel impermeable to the urban community surrounding them. Many industrial neighbourhoods have qualities which isolate rather than integrate them into the local area including: imposing building sizes, messy yard space, low footfall outside business hours, poor lighting or simply a lack of vegetation or public amenities. As a result, they can feel inhospitable, and are at odds with trends towards an open and accessible public realm. Large scale industrial locations such as Park Royal in London, Buda district in Brussels or the M4H harbour in Rotterdam face this challenge. There are opportunities to better integrate this industrial land into the rest of the city. This can be achieved through blending building use at the edge of these areas, creating complementary functions that attract people outside work hours, such as a gym or cultural centre. Planning for these 'third spaces' which fulfil a social role can breathe new life into industrial districts and build links with the local community.
Public face for manufacturing
Manufacturing activities are frequently hidden from sight, either segregated on industrial sites or behind unmarked doors. Whilst manufacturers may not seek to engage with the public, this lack of visibility at street level can result in the work of manufacturers going unnoticed and unvalued by citizens. However, there are opportunities to create public interface with manufacturing. Firms can take advantage of mixing production with direct retail, or educational and training activities. Small manufacturers work together in shared premises, which might have exhibition, social, or hospitality spaces open to the public. Indeed, industrial activities can create focal points or atmosphere which draw the public in.
High streets offer another opportunity to give manufacturing a public face. In many cities high streets are struggling as changing shopping patterns, online retail and out of town logistics centres are reducing footfall for traditional shops. Light manufacturing and productive activities which have a public face, such as shoe repair, garment making or furniture production could offer opportunities for repopulating high streets, benefiting both industry and communities. Equally, makerspaces or other open access workshops could take up space in areas which have traditionally been retail sites, and allow the public to learn and to meet people with other skills and ideas. 
Intensification
Many industrial areas contain single floor buildings, making the precious airspace above these buildings an attractive proposition for developers. But this doesn't have to mean an automatic conversion to housing or office space. Where land values are high enough, developers may find the business case to develop multi-storey buildings that have the loading capacity for heavy equipment on upper floors and goods lifts or vehicle ramps. While in some Asian cities this has long been the case, in recent years, London has also moved towards 'industrial intensification'. 
Mixing uses
As discussion develops about manufacturing's place in cities, eyes are turning back to central locations: small breweries are finding their place in city centres and incorporating retail; high-tech additive printing can be found in offices or shops; bike makers are assembling close to their city clientele. Accommodating these functions in central locations requires co-locating or mixing different uses, for example a site where manufacturing occupies the lower floor(s) of a building, and residential or office use is housed above. This co-existence of industry and residential was common in working European neighbourhoods throughout the 19th and early 20th centuries but more recently has been restricted by building regulations. However, new forms of cleaner and quieter manufacturing once again make this attractive.
Space for resources
Transitioning to a circular economy will require cities to manage waste differently, such as providing space for sorting and managing waste streams from industry. This might involve shared sites on which to collect resources, co-locating repair firms with manufacturers in order to create product ecosystems and providing collective logistics for redistributing resources across a city or district. Urban centres facilitating this new function will require careful site design. 
Mobility
For manufacturing firms to flourish their locations need to be accessible. Access to good transport links are essential for enabling workers to arrive and goods to leave. Seeking this access, manufacturing activity has often been located along canals, riverways, rail and major road links. Where city planning does not facilitate good transport links, or where congestion reduces traffic flow, manufacturers will suffer. An example of this is seen in Brussel's Buda district, which is around 10 kilometers from the city centre. Manufacturing firms there struggle to fill low skilled employment openings despite the city itself having a 16 percent unemployment rate, and firms put this down to the difficulty staff have in travelling to work.
Brokering strong relationships
Whilst there are broad considerations applicable to many cities, successfully accommodating manufacturing in each urban area requires sound understanding of local conditions. This includes both the policy and regulation landscape, and the relationships and culture within the area. Interacting with urban planning is challenging for many urban manufacturers that tend to be SMEs, and have neither the resource nor the knowledge to take on the complexities of the process. This is further exacerbated when several different local authority departments have responsibility for some, but not all, aspects affecting manufacturing. Resulting, for example, in small businesses needing to interact separately with the local planning office, the education team and the economic development department. Having an actor who can broker the relationships between businesses and local authorities could lead to stronger outcomes for both sides.