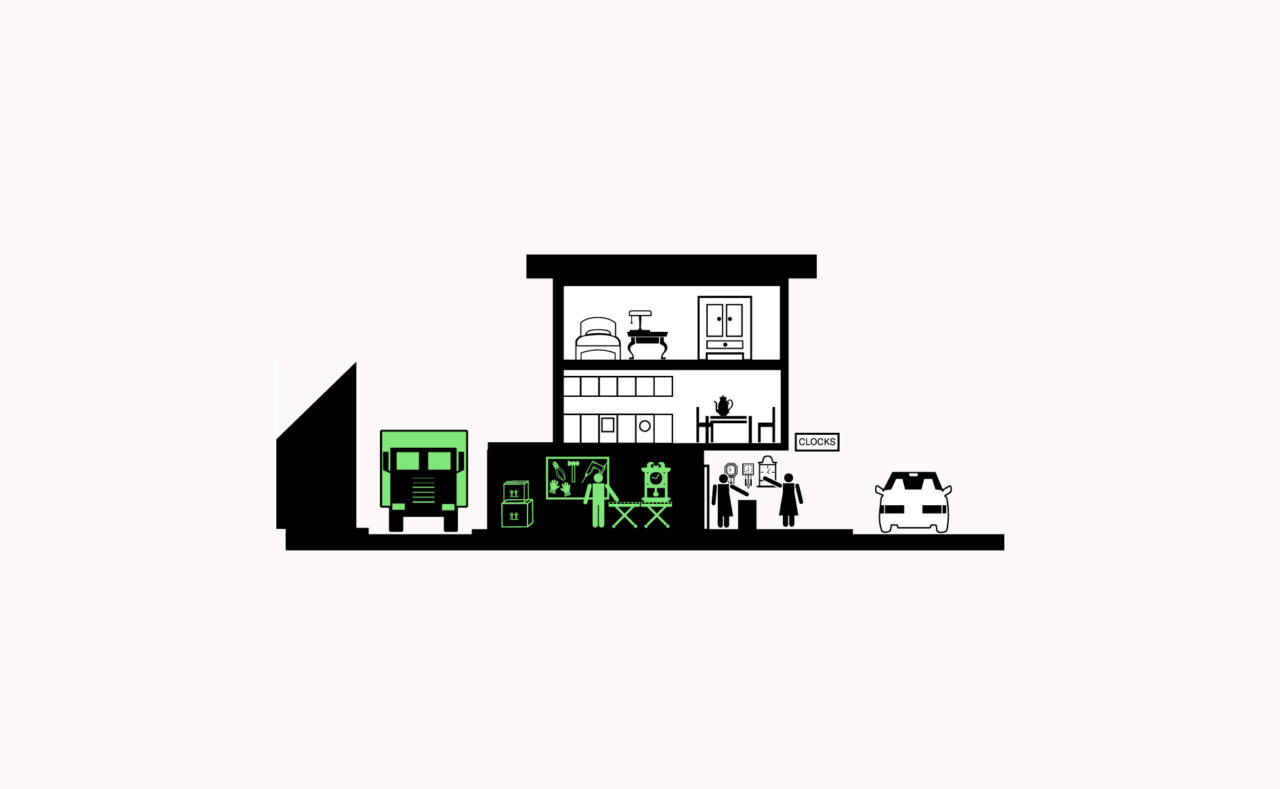 N.11 Back of the High Street
Locating manufacturing behind high streets, facilitates the movement of goods, provides flexible space for making, while located in proximity to complementary activities such as logistics, material suppliers and repair centres.
[Context] Some manufacturers may need to be located near clients and are suited to be close to high streets. But due to their type of activity, manufacturing may be too big or unsuitable for sites along the high street itself. The back of the high street is therefore very useful for manufacturing businesses. Such environments can include alleys, driveways, delivery zones or storage spaces. The back of the high street is often far cheaper than the more customer oriented high street site and therefore it can be affordable for manufacturers. Furthermore, it is often where logistics spaces and material suppliers are located, which can create a parallel high street for non-retail activities that depend on accessibility and proximity to clients. Examples could include food, clothing, niche technology and furniture.
[Problem] Urban manufacturing located in mixed use areas faces two particular challenges. Firstly, a lack of suitable accessible space. As high streets may have developed around retail activities, the design of available spaces may not be suitable for manufacturing whereby buildings have far too many columns, floor levels are too low, spaces are too small and fire safety regulation requires expensive investment to upgrade buildings. The high real estate prices along main streets can have a spill-over effect on the real estate prices in the back of high streets, even if the demand for such spaces is lower. This can be limiting for manufacturers who have high overhead costs and often lower profit margins than other services that are more typical for such locations. Secondly, the back of the high street may be even more inconvenient for loading goods and logistics than the high street itself. If buildings are oriented towards the high street, it can mean that they do not have B.9 Large Openings to move bulky things or goods lifts (B.5 Enabling Vertical Making), that are necessary for many manufacturers.
[Forces] Public authorities may find manufacturing to be an ideal way of reviving the community and cultural aspects of the high street that have lost foot-traffic and occupants due to changes in e-commerce and trends in the retail market. To avoid blight and vandalism, local public authorities may see the value in attracting a make-over from the creative sector. Light manufacturing, artisanal activities and crafts may fit into this narrative. While in the short-term, this can reanimate life into high streets and surrounding areas (through P.4 Meanwhile Spaces and Transitional Use), long-term solutions may be more challenging. Firstly, building owners, those that once paid a premium for such sites, may struggle to accept lower returns on their investment and are likely to fight for the highest value alternative (which is rarely manufacturing). Secondly, spaces that were developed for retail (or storage) may not be zoned or suitably equipped for manufacturing. This includes fire, exhaust systems, power, sewage capacity and so forth.  
[Solutions] Where suitable, locate manufacturing behind high streets, to draw on networks of retail and services businesses. As high streets lose their retail value to online shopping, N.10 Making Along High Streets, such as artisanal workshops and light manufacturing is considered an attractive alternative. To best accommodate manufacturing, focus on bigger buildings with zones for B.6 Easy Loading & Unloading and continuous floorspace. This provides opportunities to concentrate wholesale, repair, logistics and manufacturing, all of which can be linked to complementary retail activities on the high street. Spaces with C.5 Varying Unit Sizes allow for a mix of makers. The back of the high street, with lower pedestrian flows and lower retail value should take advantage of C.7 Links to Transport Infrastructure, allowing for the movement of goods and larger vehicles but in ways that do not lead to congestion on the high street. This requires suitable infrastructure for R.8 Moving Things Efficiently such as loading bays. C.1 Microzoning can be applied to provide exceptions for deliveries in streets behind high streets, since in many mixed use areas, loading might be restricted. Where space permits, co-location (housing above manufacturing space) can be developed with a shared B.2 Yard for Logistics and B.1 Making Around Courtyards. Consider also C.10 Transition Zones on the smaller scale and facilitate horizontal and vertical industrial intensification in mixed use areas and support the development of N.10 Making Along High Streets.
[Contribution] Add contributions here.