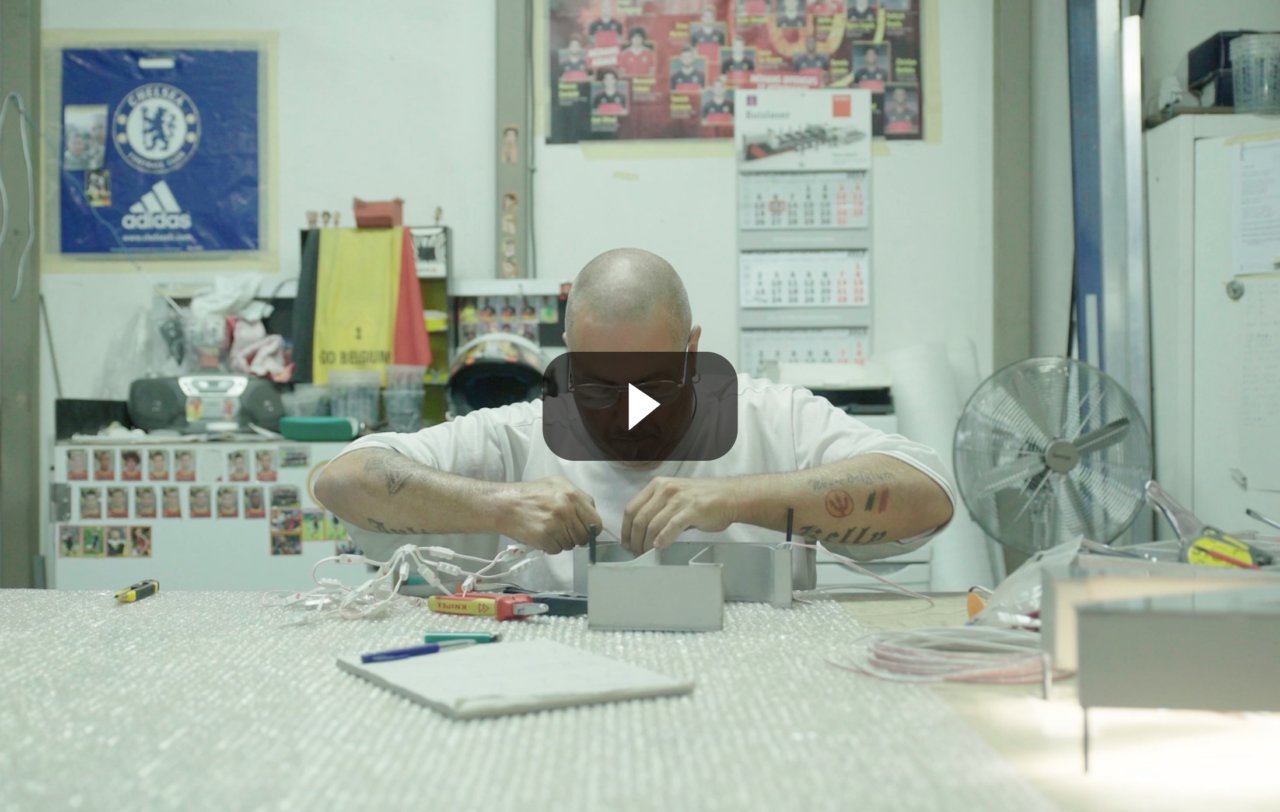 Brussels, a city of making
Manufacturing in urban areas could be one of the most complex challenges for the future of urban planning. It covers a vast range of themes from dealing with local economics, labour and skills, questions of managing waste and resources, finding ways to innovate, on top of all the other issues which come with being in the city which includes congestion, troublesome neighbours, cost of land and so on.
Following the life of four manufacturers
BIGH is food producer, growing tomatoes, fish and herbs.  They're located in the city's abattoir and the business builds on ideas or circular economy, cradle to cradle and industrial symbiosis.  Their location in the abattoir allows for waste heat from the refrigeration units to heat up the greenhouses, while the food market provides a direct point of sales.  We cut a video on how their business was launched – check it out here.
CF2D is a social enterprise dealing with electronic waste.  They couple training of under skilled or unemployed workers with sorting waste and where possible reusing it.  On the one hand they have the capacity to leverage available labour, while on the other they need to deal with the challenges of introducing workers into the workforce.  We made a film on the business and their challenges.
Lowy is an artisanal baker located in the south of Brussels.  After a serious fire, they were forced to move out of the centre of the city to the fringes, while adapting their production processes to compete with industrial and highly mechanised bakeries.  We documented their factory in a film here.
Petrus Neon is a sign maker with clients located across Belgium.  While their business is highly competitive, their employees are loyal and travel from all over the country.  They question seriously the reason to be located in Brussels, despite its proximity to clients and mobility networks.  We made a short film on their struggles here.
The film
________________________
Director / Editor : Ayrton Heymans
Production: Adrian Vickery Hill, Alexandre Orban, Fabio Vanin
Story: Alexandre Orban, Adrian Vickery Hill, Fabio Vanin, Ayrton Heymans
Camera: Nastasja Saerens, Julien Thiébaut, Alexandre Orban, Octavio Aramburu, Fabio Vanin, Diogo Pires Ferreira
Colouring: Nastasja Saerens
Infographics + titles: Nicolas Grandry
Sound editing & mixing: Ayrton Heymans
Interviews: Alexandre Orban, Fabio Vanin, Octavio Pineiro Aramburu
Narration: Sean Van Lee (narration voice)
Featuring (in order of appearance): Steven Beckers (BIGH), Bernard Goffinet (CF2D), Sebastien Delvaux (Lowy), Bruno Hanquet (Petrus Neon)
________________________
If you only have two minutes:
This film provides an insight into four manufacturers in Brussels covering both foundational activities and forms of manufacturing that require to be in or near the city.  The film aims to present some of the common trends and challenges, while exposing some of the contradictions between manufacturers. If you don't have time to watch the full 60 minute film (see below), watch the teaser:
.