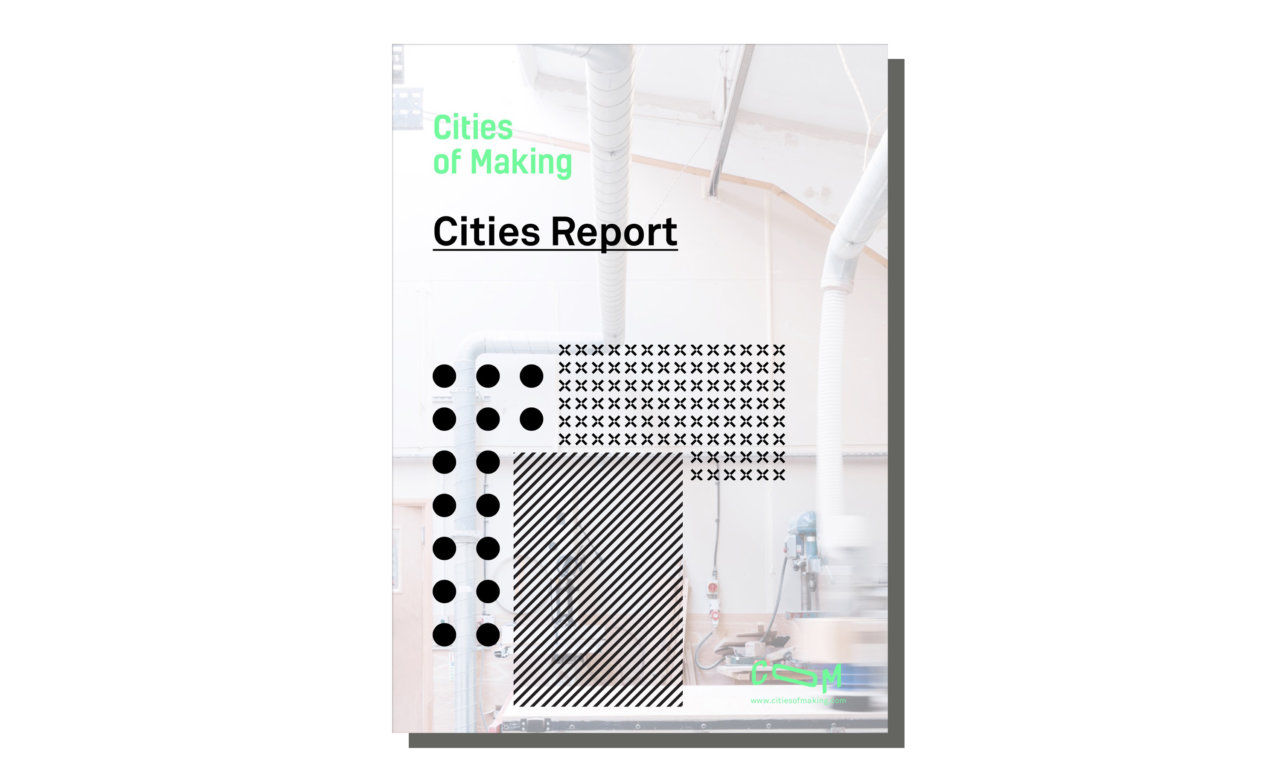 The Cities Report
The Cities of Making 'Cities Report', offers an insight into urban manufacturing in three global cities - Brussels, London and Rotterdam. Each city has had a distinctive industrial heritage and is interpreting the future of manufacturing in very different ways. This report exposes unique qualities of each and common trends that may be relevant to many other European cities who are grappling with the future place of making.
Urban manufacturing, interpreted simply as the production in cities of tradable goods at scale, is a poorly understood aspect of urban life that is often taken for granted or overlooked in urban planning. Following years of decline and offshoring, European cities may now be at a turning point. Firstly, manufacturing jobs have shifted quickly to services and have created large gaps in the employment market. Secondly, concepts such as circular economy are being taken seriously by cities. Finally new technology is emerging allowing industry to be quieter and more discrete. Should 21st century cities continue to manufacture? If so, then what should be made, where?
Cities of Making is a two and half year European research project, looks into manufacturing through the lense of three European cities: Brussels, London and Rotterdam. Each city has had a significant manufacturing past and a very different future lies ahead. Regardless of differences, each city is at a crossroads where manufacturing could form a stronger place in the urban economy or simply fade away, replaced by more contemporary demands for urban space and jobs.
This first analysis report, the 'Cities Report', has found that manufacturing has both a fond and important place in urban areas, yet remains poorly defined and understood within the urban economy. Over the last decade grass-roots maker initiatives have been emerging that have revived an interest in the locally made, associated with quality and value. At the other end of the spectrum, never has there been a time where technology has been so accessible. Likewise, within a globalised market with almost negligible freight costs, never has there been a time where public authorities must be more strategic in attracting and supporting the industries that serve their local economies while investing in the necessary infrastructure to support it. This may have a positive turn for cities – with urban manufacturing helping to customise goods and technology to suit their markets and needs while managing waste and resources. Now is the time to decide whether to continue a decades long trend of expelling manufacturing from cities or embrace it within the local economy.
__
Last updated 23/5/2018.